ゆず子
A year has passed since I learned to play the piano. It's fun to play various songs! Who are the famous Japanese pianists?
I will answer such questions.
TOM
There was one woman who kept going to the piano, no matter how hard it was, no matter how hard she lost her chance.
That person is Fujiko Hemming.
A documentary depicting her trajectory was broadcast on NHK and received a great response.
And her debut CD "Miracle Campanella" recorded sales of over 2 million copies, which is unusual in the classical music world.
Fujiko Hemming, who continued to play the piano even after losing her hearing – now for the cat?
This article introduces the heroic trajectory of Fujiko Hemming's book, "The Power of Hope: An Unbreakable, Never-Give-Up Heart."
Early life of Fujiko Hemming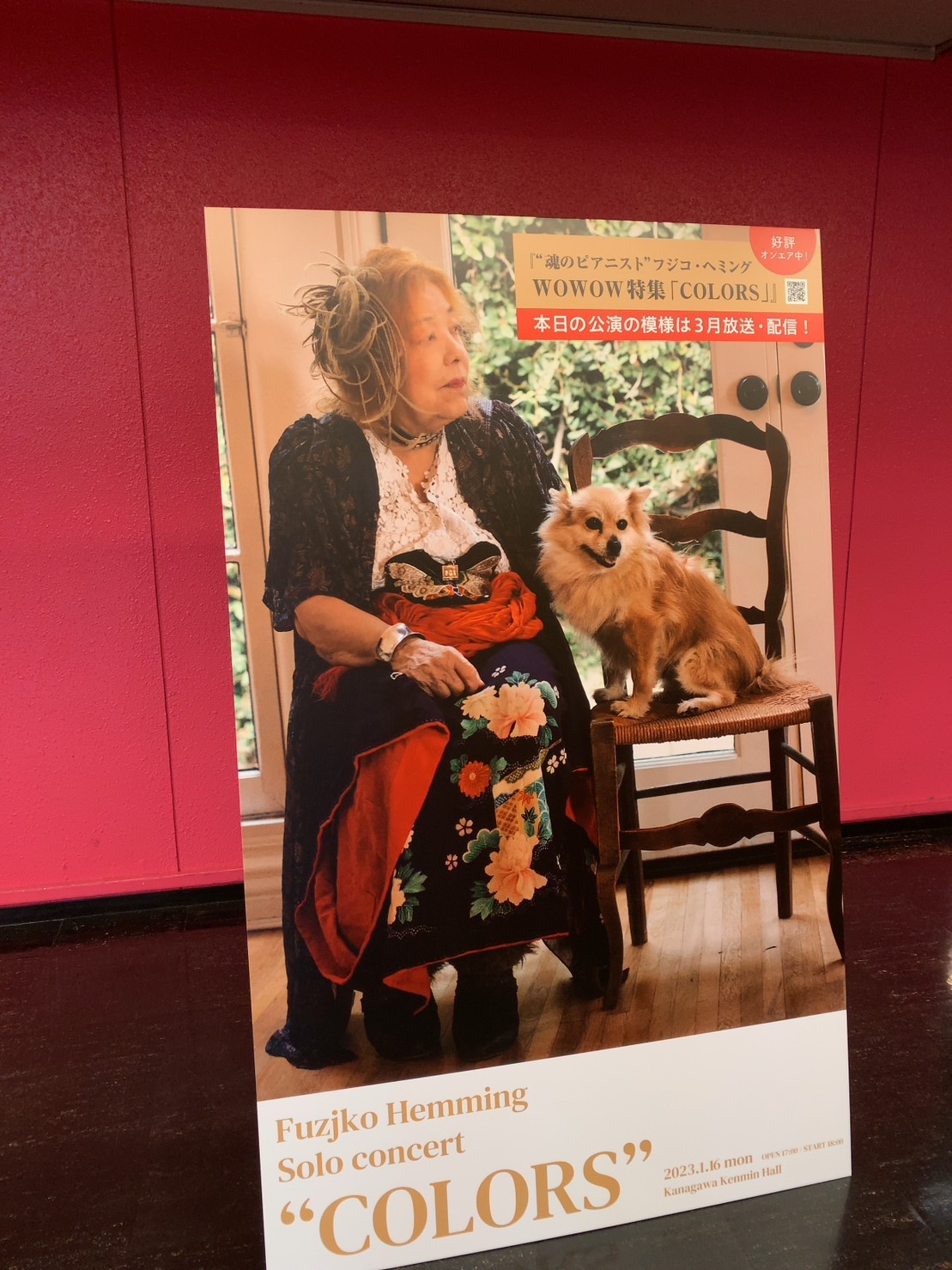 Her father is a Swedish painter and her mother is a Japanese pianist.
Fujiko was born between these two people.
Fujiko's mother was a piano tutor. She says that from an early age she slept listening to Chopin played by her mother.
Fujiko started learning piano when she was four years old. However, she was reluctant to play the piano without finding it interesting.
Her mother, who taught her piano, may have been strict.
Each lesson is 2 hours long and is repeated 2-3 times. The days continued when Fujiko-san made a mistake and was yelled at.
But Fujiko gritted her teeth and got over it. It is said that before he knew it, he began to feel that the piano was interesting.
Even after Fujiko became a high school student, she continued to spend her days immersed in the piano.
"You never know what will happen in life.
What can you do besides playing the piano?
The piano is your only trade, so stay strong. "
He says he still remembers the words of his mother.
Fujiko's efforts paid off, and at the age of 17 she gave her first recital at the Yamaha Hall in Ginza.
In my daughter's heart, if you try hard even if it's hard,
I always thought that good things were waiting for me.
After graduating from high school, he entered Tokyo University of the Arts and continued to study piano.
And thanks to the help of many people after winning the competition and winning numerous awards
I fulfilled my long-cherished desire to study piano in Berlin, Germany.
Fujiko Hemming was 29 years old, but what awaited him was the beginning of a long and painful life.
Fierce Days of Fujiko Hemming
Many Japanese students were enrolled at German universities, but they were all international students who grew up in affluent environments.
However, Fujiko was treated as a "refugee" in a special way.
I became more and more isolated without the wonderful encounters that made my heart flutter.
Bullied as a "stranger" in Japan,
In Germany, where he was born, he is seen as an "Oriental"
He is considered an "outsider" by Japanese exchange students.
I can't let you join me…

"Why? Where is my hometown?"
The dream he had was about to disappear.
Fujiko confesses the misfortune as follows.
Despite such circumstances, she never gave up on her dream and graduated from university and moved to Vienna, the capital of Austria, her neighboring country of Germany.
I met many great musicians and was full of hope, but I just didn't have the money.
No passport, no job. Relying on a small remittance from his mother.
It is said that there was a day when he would spend a week with nothing but sugar water when he had nothing to eat.
Fujiko Hemming Opportunity has arrived
パリ振替公演のお知らせ❗️

新型コロナウイルス感染症の影響により延期となっていたパリ公演の日程が決まりました。

【振替公演予定】
2021年1月17日(日)パリ
※ソロ・コンサート(フロントアクトあり)
会場:コンセルヴァトワール劇場 (フランス国立高等演劇学校内)https://t.co/IpElgJ8CbM pic.twitter.com/xZsscVXgbb

— フジコヘミング (@FuzjkoHemming) July 1, 2020
One day, an opportunity comes to Fujiko, who has been living in poverty.
When Fujiko learned that there was going to be a concert by the world-famous musician Bernstein, she bought a ticket with what little money she had and sent Bernstein a letter and a picture of herself.
It was because I thought that I had no choice but to open up my own path.
After the concert, Fujiko visited Bernstein's dressing room.
He was reading Fujiko's letter, and he told me to play the piano on the spot.
I frantically played Liszt's "La Campanella" and "Love's Dream".
Then Bernstein, who finished listening, hugged me,
You kissed me

God smiled.
Fujiko's recital posters were pasted on the streets of Vienna.
A dream come true at last.
It's because I've been doing my best to look ahead even if it's painful.
No matter what, don't give up
The road will always open.
I thought so.
Fujiko Hemming loses hearing, but climbs out of it to life
YouTube
作成した動画を友だち、家族、世界中の人たちと共有
A week before the recital, Fujiko caught a cold while living in a cold room with no heating.
As a result, the otitis media that I had as a child recurred.
He rushed to a university hospital, but he had no money and no health insurance.
Fujiko has lost her hearing.
After that, I gave a recital while I was deaf, but the result was a mess.
I canceled all the recitals for the next day.
I missed the best chance I grabbed,
I cried every day.
It was the devil's fault, I thought it was over.
However, Fujiko continues to play the piano. He left Vienna once, but he returned to Germany again.
While he was having his ears treated, he qualified as a piano teacher.
He worked as a piano teacher and continued to perform concerts, but due to her mother's misfortune, she returned to Japan.
And Fujiko will continue his activities such as holding a concert at his alma mater in Japan.
A documentary depicting her heroic life was broadcast, and her debut CD became an explosive hit.
Her name, Fujiko-san, has become known to many people.
She will resume her music career in earnest after her revival recital at Tokyo Opera City after the broadcast.
She has performed in concert with famous orchestras, and her Japan tour in 2009 attracted 50,000 people.
This cold has turned my life upside down.
I hope that recital was a success.

Everyone has unhappiness, and no one has all the good things.
Therefore, the important thing is not to be defeated by failure or misfortune,
How do you get over it?

In the case of I,
I just kept playing the piano.
Fujiko Hemming currently plays the piano for 20 rescued cats
YouTube
作成した動画を友だち、家族、世界中の人たちと共有
Even now, as she ages, Fujiko still spends three hours a day at the piano.
Where does that impetus come from?
that is···
It's for the 20 cats I have at home in Tokyo. To feed the cats.
All the cats that Fujiko-san picked up at the beginning have all grown old and died, but the cats come here and there again.
The cats must have been bullied by humans. It doesn't show up when other people come.
It seems that feeding these cats is Fujiko's purpose in life.
It is said that there are places that live to help poor creatures other than themselves.
A piano teaching material for beginners who was involved in the planning, writing, and production of an active piano teacher.
Even beginners can enjoy learning from Doremi.
The contents are easy to understand even for those who have never read music or have never touched an instrument before.
Her concept for the first installment, "Be able to play two famous songs in 30 days," was very well received, so he prepared a sequel as a set. You will be able to play 6 famous songs in 90 days.
The DVD contains detailed lessons about songs, so if you follow the teacher's explanations and practice, you'll be able to play.
少しでも参考になれば嬉しいです。
最後までお読みいただきありがとうございます。
関連記事:
ゴッホのひまわり 水彩画で練習していた!あなたも描けるゴッホのひまわり【柴崎春通流】
おばあちゃんは75歳から絵を描き始めた、グランマモーゼスはアメリカの国民的画家
ブログランキング参加しています。応援お願いします!